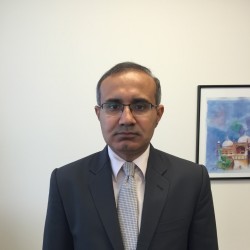 Mr. Shoaib Sarwar (Consul of Pakistan at Los Angeles)
Mr. Sarwar got his early education from Lawrence College, Murree. He holds an MBA in Corporate Finance from New York University's Leonard N. Stern School of Business.
He also holds BA (Honors) in Accounting and Finance from University of Kent at Canterbury United Kingdom.
Mr. Sarwar is also Alumni of Government College, Lahore and Indiana University, Bloomington, USA.
Mr. Sarwar joined the Consulate General of Pakistan Los Angeles as Consul on June 8th, 2017. He was previously serving as Deputy Head of Mission in the Embassy of Pakistan The Hague, Netherlands. He has also served as Deputy Secretary (Foreign Affairs) in Prime Minister's office in Islamabad from January 2014 to September 2014.